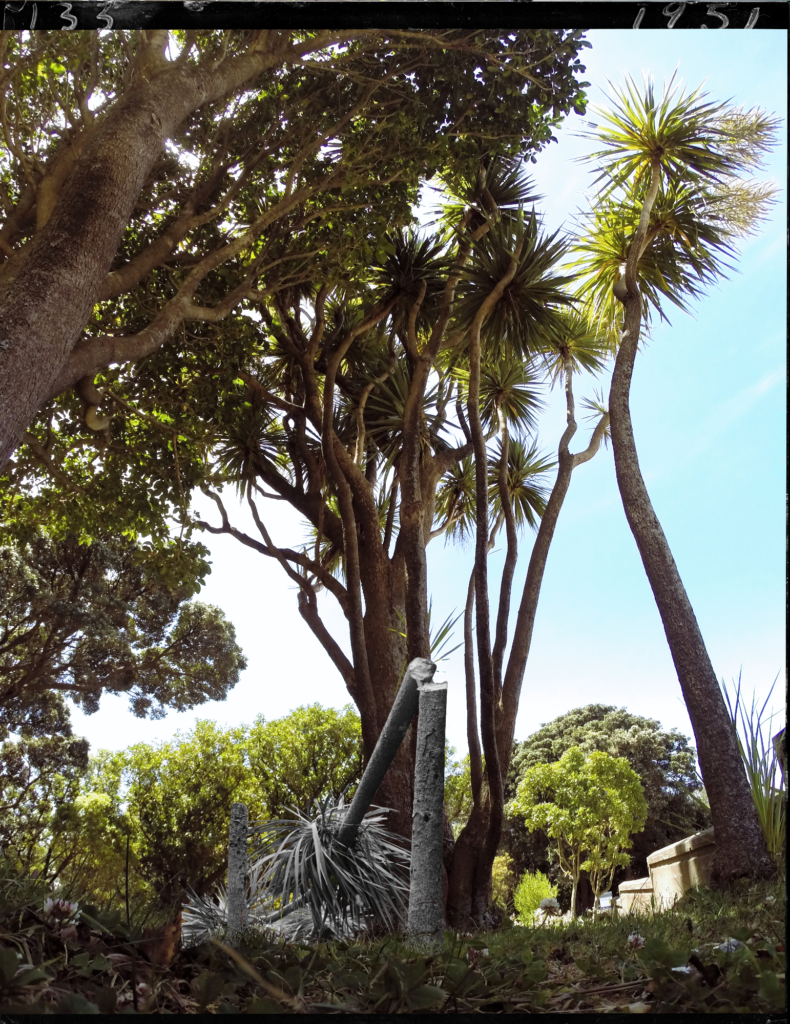 Enjoy Pub­lic Art Gal­lery has been on the cul­tur­al land­scape in Wel­ling­ton since 2000. If you haven't been there, it's on level one at 147 Cuba Street, and was estab­lished as an artists-run non-com­mer­cial pro­ject space.
As a pro­ject space, Enjoy is able to show work that pub­lic insti­tu­tions don't take on. It's a place where artists try things out — although pro­jects are rig­or­ously screened before they are pro­grammed. Don't feel intim­id­ated if you don't 'under­stand' things — it's a com­plex, nuanced and multi-dimen­sion­al world we live in, and the exhib­i­tions at Enjoy reflect this, cri­tiquing, syn­thes­ising and enga­ging a range of his­tor­ies, stor­ies, events and ideas. It can be heady stuff.
In Octo­ber I went to the open­ing of an install­a­tion by Paula Schaaf­hausen with Suz­anne Tamaki, called Ebbing Tagaloa. The gal­lery floor was covered in Tagaloa fig­ures made from sand and coconut oil. Over the course of the exhib­i­tion, they slowly dis­in­teg­rated, melt­ing into a pool of oil and sand. The meta­phor was simple but potent.
And the annu­al Buy Enjoy exhib­i­tion is not to be missed. Artists donate work for this Decem­ber show, where everything on sale is around $125. There are always things I want, and I still think long­ingly of the Karin van Roos­malen work I missed out on a couple of years ago.
This month at Enjoy is an exhib­i­tion called The Lev­el­ling of Puke Ahu (dates tbc). It includes the work of Bron­wyn Hol­lo­way-Smith, Izzy O'Neil, Angela Kil­ford and Eli­jah Winter. Puke Ahu is the ori­gin­al name for the Mt Cook area through which Wal­lace Street runs, and the exhib­i­tion draws on his­tor­ies of the former Domin­ion Museum and Nation­al War Memori­al site.
Each of the artists takes some aspect of the his­tory as a start­ing point for their work. Hol­lo­way-Smith, for instance, found an Even­ing Post pho­to­graph of a felled cab­bage tree taken in the area in 1951 and col­laged the image into a con­tem­por­ary scene of the site, where iron­ic­ally a healthy grove of cab­bage trees cur­rently flour­ishes. The title of the work, Monu­ment to an Unknown Vic­tim, sug­gests events going on at the time — espe­cially the water­front lock-out — and what might have promp­ted this vandalism.
Izzy O'Neil doc­u­ments the sexu­al assaults that occurred on the site in 2014, includ­ing the cor­res­pond­ence between Mas­sey Uni­ver­sity and the stu­dent body.
Angela Kilford's work is a walk­ing tour. Without judging any of the decisions made — the motor­way tun­nel, the redevel­op­ment of the site as a Nation­al War Memori­al pre­cinct — she shares her know­ledge of the site's stor­ies and his­tor­ies. Who knew, for example, that there is a loc­al memori­al to the Pari­haka pris­on­ers who were held here before being moved to the South Island?
Add Enjoy to your gal­lery rounds.
[info]
March Art
Con­tem­por­ary fur­niture design in New Zea­l­and is hard to find without dig­ging about. It is pos­sible to buy all man­ner of over­seas brands here, but often hard to know who is design­ing fur­niture loc­ally. Humphrey Ikin and Dav­id Trub­ridge are house­hold names, but who else designs and makes con­tem­por­ary fur­niture? This month (until 22 March) at the Dowse is Mod­ern Reviv­als, an exhib­i­tion to answer that ques­tion. It includes 20 works by Simon James, Nath­an Goldsworthy, Designtree, Well-Groomed-Fox, Dav­id More­land, Douglas and Bec, Clark Bard­s­ley, Timothy John, Tréo­logy, Tim Webber, Candy­whistle, Jam­ie McLel­lan, Duncan Sar­gent, Y.S Col­lect­ive and Fitzsimons.[/info]
Mary-jane is a Paekakariki-based poet and essay­ist, and Fish­Head's art colum­nist. She teaches poetry and aca­dem­ic writ­ing on the Whiyireia Cre­at­ive Writ­ing pro­gramme, tor­tur­ing stu­dents with half-rythmes and pan­toums, zom­bie haiku, and line breaks, ref­er­en­cing and struc­ture. Duffy has a back­ground in museum and gal­lery work, mak­ing a lucky escape from the base­ment of the City Gal­lery Wel­ling­ton in 2002 and open­ing the Mary New­town Gal­lery with Paula New­town in 2004. Art (across all the dis­cip­lines) feels like the closest thing she has to reli­gious exper­i­ences — see­ing, read­ing or hear­ing things that make her brain fizz.