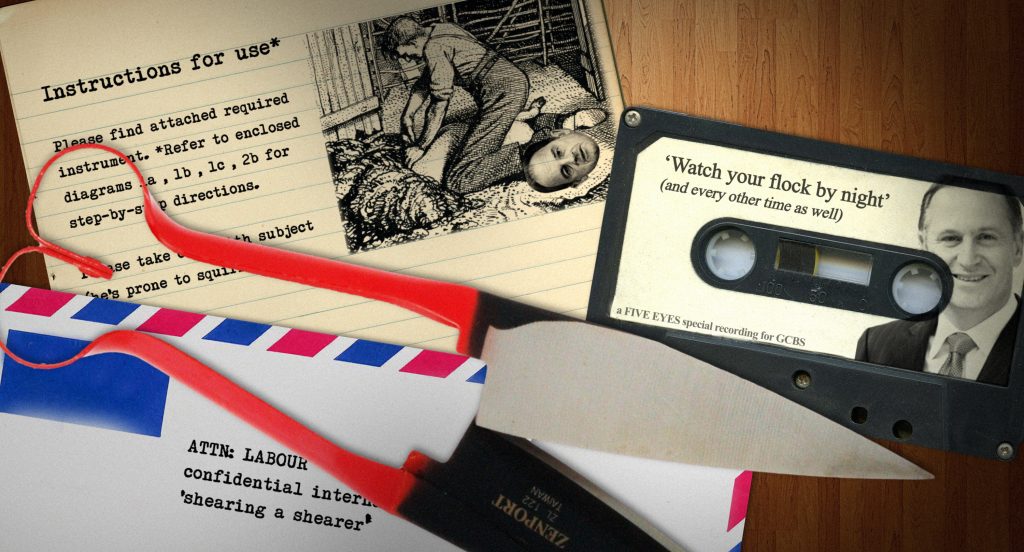 I tweeted recently sug­gest­ing that Dav­id Shear­er would soon be rolled as Labour's lead­er. This may or may not have happened by the time this issue of Fish­Head goes to print. I said Shear­er faced a lead­er­ship coup and a let­ter of no con­fid­ence was cir­cu­lat­ing his MPs.
When I did that it cre­ated a shit-storm. Let me explain. I had two sources when I tweeted that mes­sage, one inside caucus and one out­side. I have since spoken to many Labour MPs both in per­son and on the phone. That is a journalist's job. We deal with these people. We have to. If you don't, you should pack up your tent and go home.
This is what I know. Labour is bleed­ing intern­ally. The day I tweeted that mes­sage they were in a bad space. My sources have told me intern­al polling showed them at 29 per­cent – the low­est Labour has been all year. I'm told a let­ter of no con­fid­ence was dis­cussed – it nev­er emerged.
Did it exist? Well, a bit like the Gov­ern­ment Com­mu­nic­a­tions Secur­ity Bur­eau (GCSB) tape of John Key address­ing spy-agency staff that Shear­er claimed exis­ted, we'll nev­er know. Three seni­or Labour MPs also tell me that former lead­er Phil Goff took a group of MPs to see Shear­er that Tues­day I tweeted.
Goff, I am told by my sources, told Shear­er his lead­er­ship fail­ings were being openly dis­cussed by Labour MPs around the cor­ridors, and he should watch his back. Goff appar­ently told Shear­er that the next round of polls was cru­cial for Shear­er, as it could be a trig­ger point for a coup. But this is how slow-burn­ing coups work.
Labour MPs are unhappy with Shear­er. That's hardly a state secret. They believe that since the May budget he has per­formed poorly and John Key has not only regained his mojo, but his mon­ster within.
But Labour's prob­lem is suc­ces­sion. No one in the caucus can agree on who should replace Shear­er. Dav­id Cun­liffe, I'm told, has 12 MPs sup­port­ing him. You need 17 to force a party-wide vote.
Deputy Grant Robertson may have that many as well – but my sources say his homo­sexu­al­ity wouldn't be a vote-win­ner when Labour is try­ing to win the centre – and pull back the blokes – after the dread­fully handled man-ban issue. Robertson is highly cap­able and ambi­tious: he wants to become prime min­is­ter. That should not be underestimated.
Andrew Little's name has popped up again, but he told me on Radi­oLIVE that "there is no vacancy" – just what John Key said before he rolled Don Brash. Watch him. He's the former party pres­id­ent – he knows where the bod­ies are bur­ied. And Shane Jones is an outsider's chance, but the caucus is not convinced.
So that's why Shear­er has stayed in the role – it's why he was put there in the first place. He was, and still is, the com­prom­ise can­did­ate because so many in the caucus dis­like Cun­liffe. But is that chan­ging? There is an ABC club (Any­one But Cun­liffe) led by MP Clayton Cos­grove. Its mem­ber­ship includes seni­or MPs and it's still very act­ive, but it may not be as strong as it once was.
So where does this leave Labour? Strug­gling. Any lead­er­ship change has to be voted on by the party mem­bers. If caucus trig­gers a party-wide vote, Shear­er, in my opin­ion, wouldn't win that. He may not even stand. Now Labour is look­ing at a third term in oppos­i­tion. But they could do one thing.
The poten­tial lead­ers, Robertson, Cun­liffe and Little, could drop all their per­son­al and selfish ambi­tions – knock some heads togeth­er – and get the best lead­er­ship team in place to take it to Key and Nation­al. Shear­er is a nice bloke – I'd leave my kids with him for the week­end – but is he the best Labour has? Can he beat Key? If the answer to these ques­tions is no, then Labour's seni­or minds need to nut this out quick smart. Next year is too late.